beauty
products
Shampoo wars
16:09
Yes, I am a shampoo junkie. I wash my hair almost every day and hate spending more time on it than to get a shampoo on and wash it away. ...
Yes, I am a shampoo junkie. I wash my hair almost every day and hate spending more time on it than to get a shampoo on and wash it away.



In last half a year I tried so many types of shampoo for damaged hair that I want to share my knowledge and maybe if you want to try something new you can find some inspiration here.




I have longer hair bellow my spatulas and they are really easilly dammaged. I want to get my hair longer so I had to do anything to make them regenerated and pretty again.
I honestly have to go shopping for hair products alone. I love to spend too much time reading all the bottles and all the promises written on them.
But I guess not all of you are completely nuts as I am so here is the (hooray finally) info about the shampoos:
I do not have my own photos, since I threw out most of the botles but I will work on it for the future I promise.

First thing I used, was this shampoo and I immediately fell in love with it.

Looking at the picture this is some new type I guess. If you want the One look for the black bottle with dark violet parts and you will find it. I threw out the bottle and now I am really sad. But this one looks quite simmilar to the one I had I guess it's the same thing in new bottle.
This shampoo helps against falling out hair and split ends of hair. It should help really damaged hair and it really does. I had my hair in horrible condition. And this shampoo was like an angel sent from heaven, it helped with the falling out, at least a bit, but I had hair falling because of stress so it helped as much as it could. The ends were perfectly regenerated. And it made the hair kind of soft and pretty and smelled awesome.
I just loved this one. It was the best of the best. I even had to stop using the spray for the brillance of the hair. I loved it, it helped a lot and the smell was amazing.
I would give it 11out of 10 stars :)
Second one is also for regenerating the hair (I guess all that I will mention are :D ).
This one was helpful, but I did not like the smell of it. It had this weird chemical smell, it was bearable but just for the smell I would not reach out to him again.
But the shampoo itself was cool, it's efect was amazing, it helped the split ends and the hair was soft and shiny. The hair were also thicker, they looked like they had a bit of more volume but not really much.
But for the split ends, amazing.
I would give it 8/10 just because of the smell.
Third one was from dove.
I actually bought this one because of the advertisement with Lea Michelle. You know which one? There is a video on youtube...
Don't judge me. I'm a gleek.
But the shampoo was actually pretty good. There are two blue types one lighter one darker and I used the darker one. And I fell in love with that shampoo too. It made my hair soft and perfect and shiny. I loved it until it started to have the efect that my hair lost their volume. And I hate when my hair just hang down.
I would give it 9/10 because of the volume loss after some time of using.
So I reached for the volume maximizing shampoo.
And it done it's job. I love this shampoo. I actually used it combined with the second or third one since I still have some leftovers from these and my hair were shiny, had the volume and ends were not split. I like to change them once in a time, one day I used the volumizing second day I used the damage repair and then the dove. And again.
But the volumizing shampoo done its job for certain, and it added amazing volume I did not have to move a finger. I do not blow out my hair or anything. I use hair straightener for my bangs and nothing else.
I give it 10/10 because it does its job :)
I have a strange feeling I forgot about one of the shampoos I used but can't figure out which one. But the last one I will talk about is the new orange shampoo from garnier fructis.
It is really new but since I have to try them out all I bought it. And well.
I guess everyone loves the smell of garnier fructis shampoos. My first boyfriend fell in love with me because of my hair scent. And this one smells really really nice.
But to the effect. I love it, it makes my hair shiny and kind of freshly new and regenerated. No it can not repair one year damage in one week, but it it really really good. It helped with the split ends and the hair feels amazing.
I give it 11/10 because of the awesome scent.
That would be all for shampoos, in the end I will add this I don't really know what it is. That kind of spray for hair that you spray on wet hair and it helps the hair.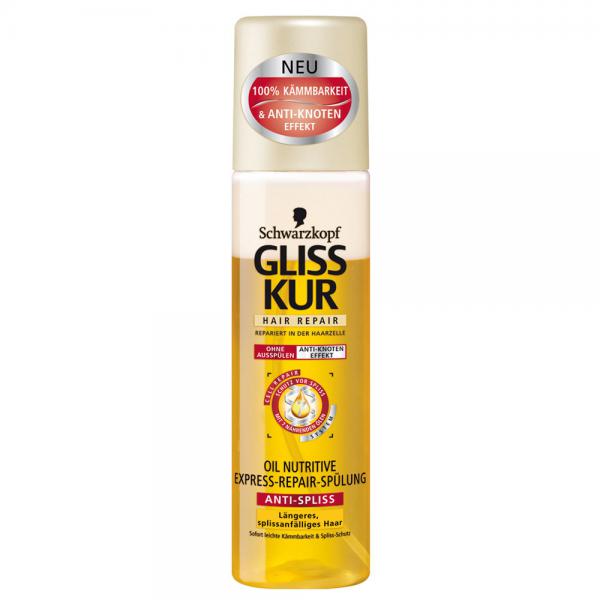 It is the gliss kur hair repair spray and you have to shake it before you use it. I like that, it makes hair products more fun.
It makes hair really really really soft, and if I talked about soft hair with the shampoos this is five feet above the shapoos. It makes you hair so soft you will have to feel it and play with it all day.
It is kind of creepy the first day. My roommate got this one first and she walked around the house and everyone had to feel her hair.
And the scent. I love the smell of my hair afterwards. It is really cotton candy-like smell and it is amazing. Even though my darling don't think so when he has to smell my hair all night. But the smell fades away after an half an hour or so, not all of it but as much that it still has the pretty smell and it becomes bearable to smell my hair through the night.
I bought it too. It also regenerates hair. My roommate said that she got completely rid of the split ends. I guess there is no help for me, but I use it anyways, just for the ends of hair, because I am trying to make the hair breathe as much as they can and it helps the ends really really good, along with the orange shampoo I am using and I almost got rid of the split ends. But I must say that my hair look incredible in opposition to what they looked on the beginning of the year.
That's it, I don't have any pictures of my hair, but I want to get an ombre soon so I will post pictures then.
x.o.x.o.
whitelilit